Sea , vast, one word! Demarcated horizontally at the near side by  the shore or human made limits, at the far side demarcated vertically by the horizon dividing the sea from the sky. The far side, the horizon is a point never to be reached..
The sea is so immense .. a majority of people "heading to the sea", once back home, talk about the weather, the people encountered, the conversations, the food.. is it because the sea is so immense to grasp that we do not mind to see the details in the sea?
Impermanence, high tide is a conversation between ourselves and the sea. My conversation lasted months, with my camera as my notebook. I talked with her, always when she was at her high. I maintained the exact same point of view.. location, azimuth, elevation, composition.. to minimise my own influence when observing her.
At the left, one can see "the sea". Depicting her in shades of grey, invites the viewer to look and experience deeper other characteristics.. structure of the surface, the waves, reflections, even linger and think about the sound of the waves..
At the right, each horizontal serie is a moment of high tide, with each photograph a couple of seconds separated in time. A curated selection of 7 high tide sequences over a period of a year are displayed on the right side.
The 64 images enter into a dialogue, amongst themselves. The composition is offering the viewer an internal sea dialogue never to be seen and engages simultaneously the viewer in this dialogue. 

Here you find my notes.
Often the sea is depicted in painting, photography, film, .. when she is shouting, whipping upon mankind, mankind made vessels and structures, mankind left to the sea's devices.
Maybe one day I'll reach out to her with my lens based notebook when she is shouting, however  for now, I selected the conversations at lower voice, even whispering now and then. When she whispers, she surprised me with details never paid attention to before.
Looking back at my notes, I start to see variations in synonyms, punctuations, the subtile changes in the energy of words, rhythm, pitch, silences to express herself.
I wish you intense and detailed conversations encompassing all of her verbiage next time you both meet.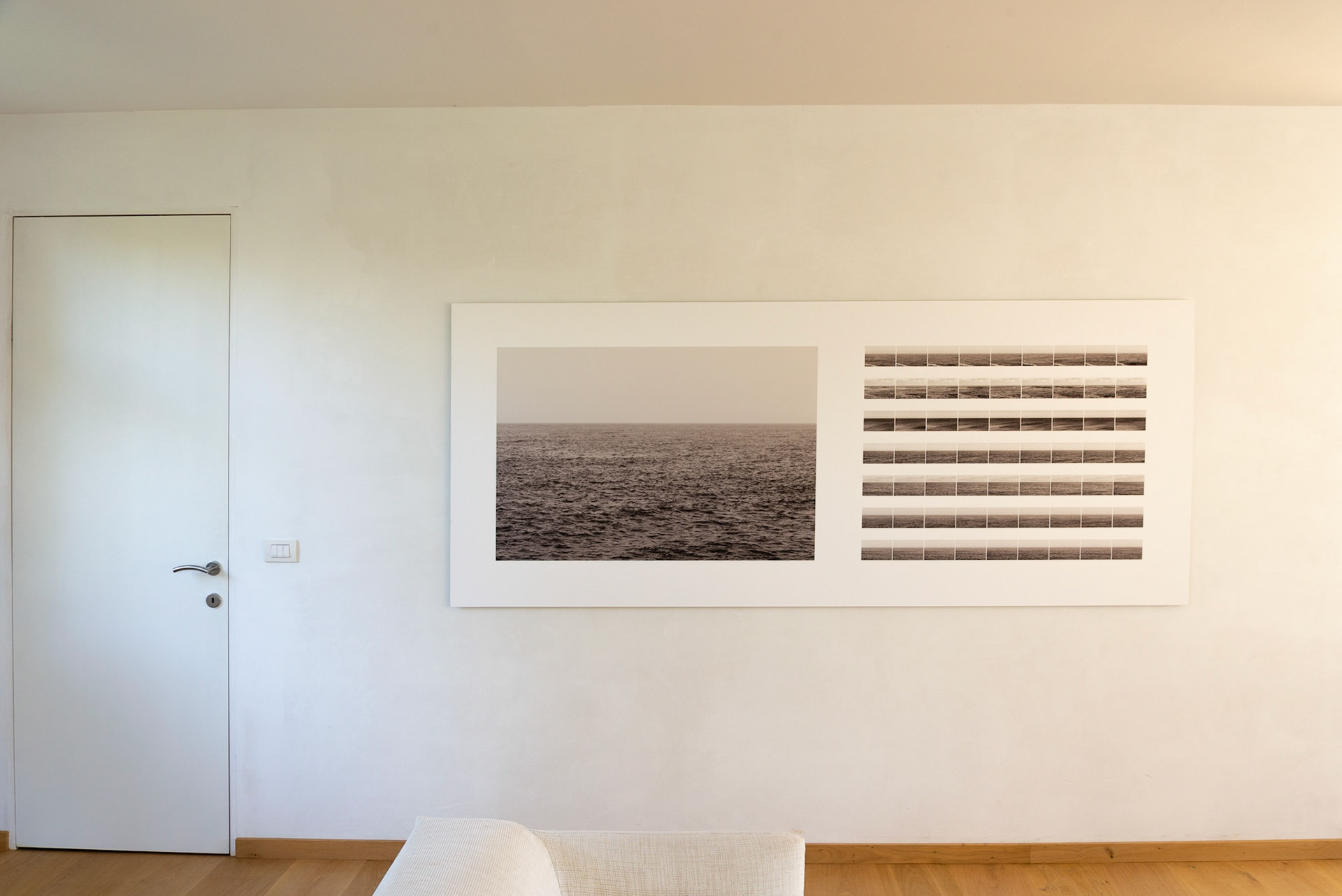 Print on Photo Rag (displayed in image above)
Light-box Digital C-print Fujitrans on Durst Lambda

Size: 262 x 108 cm - 103.15 x 42.5 inch (bespoke dimensions on request)
February 23rd - March 10th, 2019
Group expo Oerklassiek at Scharpoord, Knokke, Belgium